Make Any Gift More Special With an Exploding Photo Box
An exploding photo box is one of the greatest gift ideas you can present to a friend, family member or even loved one. This present is unique, creative, and fun. It creates a surprise that will surely amaze whoever receives it. The photos inside an exploding photo box are arranged in a particular manner. Instead of placing the photos in regular albums like the usual ones, this present package is designed in a different way. It looks like a regular photo album and is very attractive, too.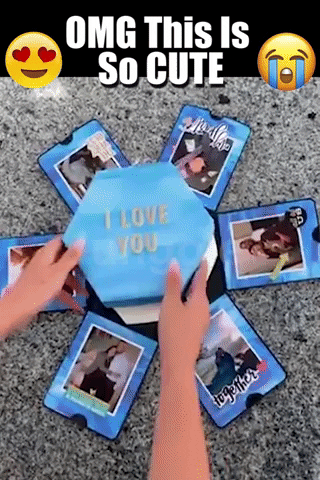 When you open the package, you will be totally surprised to find that it is not a typical photo album. To give a better idea, it looks like a scene from a movie or a still taken from a video. The photos inside the box look real and are truly remarkable. So, what are you waiting for? Hurry up and order one today!
Do you know that there are some people who just love to collect photos? If so, then you have found a great gift to give them. If not, well, a photo present is a perfect choice for those who love to collect things and items. The fun part with this type of present is that you can arrange and place as many photos inside the package as you want.
Photo present packages are very popular these days because they are very versatile. You can place your photos in a photo album or photo frame if you want to put the photos in something visible. You can also use the package to keep a few favorite photos. This type of exploding photo box is not expensive at all.
Most people buy the photo boxes to decorate their homes and offices. You can also put the photos in an album and frame the whole thing to make it more attractive. Decorating your home with a photo box makes it more memorable and beautiful. You can choose the kind and color of the exploding photo box that you would like to place in your office or your living room.
In fact, there are lots of sites online where you can buy photo-present packages for discounted prices. You can choose between the different kinds of designs and colors of boxes to match the theme of your house. They also offer different size and shapes of photo boxes for your various needs. So, no matter what kind of photo you collect or where you plan to place it, there is a photo box that will meet your requirements.
These present ideas are very easy to use. All you need to do is to go online, find out the best site, fill in your details, and start shopping. It takes a couple of minutes for the site to process your details and send you your order. After that, all you need to do is to drop the present that you want inside the box. Most of the sites deliver your present right at your doorstep.
So, if you are planning to get something exciting for your special someone then make sure that you look for an exploding photo box. It is sure to make your special day a memorable one. If you are thinking of a gift idea then look no further. Get one today and surprise the person that means the world to you. A photo box will be the perfect gift and will leave a very good memory in the recipient's mind.
There are many choices to choose from when it comes to a photo box. There are some that even come with a poem that can be written by you. This way you can make it even more personalized and say exactly what you want. You can write a poem about how much you love them or anything that is particularly nice or funny.
Make sure that you take some time to decide which exploding photo box design would be the best one for your present. The good news is that there are numerous options available for you to choose from. Just remember to look for one that suits the person who will receive it. You don't want to send something boring and they will throw it away.
Decorate your exploding photo box with a beautiful ribbon in their favorite color. Add some other photo as well, such as a family photo or a picture of them when they were little. If you are going to use any ribbon that you would normally use on your wedding dress, then by all means do so. Make sure that you wrap the whole thing up in a clear plastic zipper bag so that no one sees the ribbon when they open it. You will surely be surprised at the great things that this special present will bring to their doorstep.